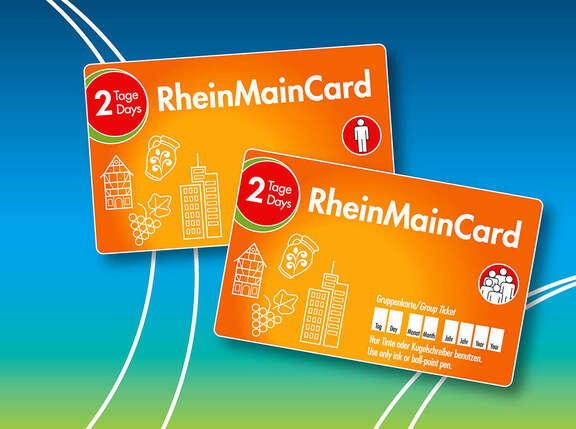 The RheinMainCard offers great discounts at many recreational establishments and bus and rail travel is even included. Ideal, therefore, for your next excursion!
Ready for your next excursion …
There is so much to discover throughout the whole RMV region – whether museums, swimming pools or historic buildings, the region offers something for everyone. For those who like travelling around the Rhine-Main region, the Frankfurt Rhine-Main region in association with the combined ticket partner RMV has a great offer: the RheinMainCard.
This adventure ticket offers visitors great discounts at more than 40 recreational establishments. And the best thing about it: travel by bus and rail on two consecutive days is included.
Ideal for individuals as well as groups
The card is worthwhile for individuals as well as groups. The RheinMainCard costs 26.00 euros for one person and 46.00 euros for groups of up to five people. More details on the RheinMainCard available in the Ticket article (only in German).
Sales: local sales outlets and online
The RheinMainCard can be purchased locally at many sales outlets in the RMV region – find your nearest outlet RheinMainCard sales outlets (only in German).
You can also order the RheinMainCard online and it can be sent to you by post or you can print it at home in the Print@HomeVersion. Further information available on both options from the operator in the below link.
Excursion destinations
The RheinMainCard offers discounts at the following destinations:
Schiffahrt: Rüdesheim, Bingen-Rüdesheimer Schifffahrt
Schiffahrt: KD Köln-Düsseldorfer Deutsche Rheinschiffahrt
Schiffahrt: Frankfurt, Primus-Linie
Aschaffenburg, Kunsthalle Jesuitenkirche
Aschaffenburg, Pompejanum
Aschaffenburg, Schloss Johannisburg
Aschaffenburg, Stiftsmuseum
Bad Homburg, Horex-Museum
Bad Homburg, Kur-Royal Day Spa
Bad Homburg, Gotisches Haus
Bad Homburg, Sinclair Haus
Bad Homburg, Royal Homburger Golf Club
Bad Homburg, Spielbank
Bingen, WeinZeit in der Vinothek
Darmstadt, Jugendstilbad
Darmstadt, Museum Künstlerkolonie Darmstadt
Landkreis Darmstadt-Dieburg, Grube Messel
Frankfurt, Palmengarten
Frankfurt, Zoo
Frankfurt, Flughafen Frankfurt
Fulda, Stadtrundgang
Fulda, Kinder-Akademie Fulda
Hanau, Historisches Museum Hanau Schloss Philippsruhe
Hanau, Museum Großauheim Kunst- und Industriegeschichte
Hanau, Museum Schloss Steinheim
Hanau, Hessisches Puppen- und Spielzeugmuseum
Hochtaunuskreis, Hessenpark Neu Anspach
Hochtaunuskreis, Opel-Zoo Kronberg
Hochtaunuskreis, Römerkastell Saalburg
Hochtaunuskreis, Kurbad Königstein
Limburg-Weilburg, Lahntalschifffahrt Vomfell, Limburg
Limburg-Weilburg, Lahn-Marmor-Museum Villmar
Limburg-Weilburg, Rosenhang Museum Weilburg
Main-Kinzig-Kreis, Brüder Grimm-Haus Steinau
Main-Kinzig-Kreis, Museum Gelnhausen
Main-Kinzig-Kreis, Spessart Therme Bad Soden-Salmünster
Main-Kinzig-Kreis, Bergwinkel Museum Schlüchtern
Main-Taunus-Kreis, Hochheimer Weinbaumuseum
Main-Taunus-Kreis, Burgfestspiele Eppstein und EppsteinerKinoSommer
Mainz, Schwarzlichthelden Minigolf
Mainz, Opel Arena 1. FSV Mainz 05
Mainz, Landesmuseum Mainz
Marburg, Marburger Haus der Romantik
Odenwaldkreis, Odenwald-Therme Bad König
Odenwaldkreis, Deutsches Elfenbeinmuseum
Odenwaldkreis, Schloss Erbach: Gräfliche Sammlungen
Kreis Offenbach, Regio Museum Seligenstadt
Offenbach, Deutsches Ledermuseum
Offenbach, Klingspor Museum
Offenbach, Wetterpark
Rheingau-Taunus-Kreis, Kloster Eberbach
Rheingau-Taunus-Kreis, Kurfürstliche Burg Eltville
Rheingau-Taunus-Kreis, Landesgartenschau Bad Schwalbach 2018
Rheingau-Taunus-Kreis, Rüdesheim, Rössler Linie
Rheingau-Taunus-Kreis, Rüdesheim, Seilbahn
Rheingau-Taunus-Kreis, RheinWeinWelt Rüdesheim
Rüsselsheim, Opelvillen
Rüsselsheim, Opel-Werktour
Rüsselsheim, Stadt- und Industriemuseum
Vogelsbergkreis, Vulkaneum Schotten
Vogelsbergkreis, Altstadtführung Alsfeld
Vogelsbergkreis, Eissport-Arena Lauterbach "Das Eis"
Vogelsbergkreis, Freizeitzentrum Lauterbach
Wetteraukreis, 50er-Jahre-Museum Büdingen
Wetteraukreis, Burgfestspiele Bad Vilbel
Wetteraukreis, Justus-von-Liebig-Therme Bad Salzhausen
Wetteraukreis, Keltenwelt am Glauberg
Wetteraukreis, Museumseisenbahn Bad Nauheim
Wiesbaden, Kaiser-Friedrich-Therme
Wiesbaden, Museum Wiesbaden
Wiesbaden, Thermalbad Aukammtal
---
RheinMainCard
The RheinMainCard offer great discounts at many recreational establishments and bus and rail travel is also included. Brochure, updated: December 2020
---
Further information on the RheinMainCard available on the website "Region FrankfurtRheinMain".