Season tickets
65-plus annual season ticket (subscription)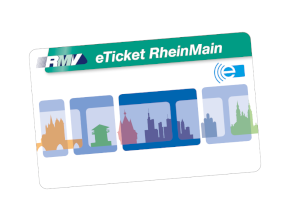 From 65 years of age and older
For as many journeys as you like on all RMV modes of transport
Valid for First Class travel
Every day from 7 p.m. and on weekends and public holidays all day: take one adult and as many children under 15 as you like free of charge
The regional validity is extended on weekends and public holidays in Hesse as well as on 12/24 and 12/31 - irrespective of the price category - to the entire RMV area without cross-network fare zones
The 65-plus annual season ticket is a named annual season ticket and is being launched as an eTicket RheinMain. With the same advantages as the named annual season ticket - mobility guarantee, refund of fares in the event of illness and lower penalty charges in the case of a lost ticket.
Fares info
Subscription
Yes (1x / 12x charge)

Validity
65 years of age and older. Earliest possible beginning of validity period is the 1st day of the month in which the user turns 65

Transferable
No

Use for First Class travel
Yes

Cross-network fare
No

Dial-a-ride taxi service (AST), express bus, etc.
Yes, in some cases with a supplement (1 supplement per person and journey)

Use of IC Service
No

Mobility guarantee
Yes
The 65-plus annual season ticket is valid around the clock.
The regional validity is extended on weekends and public holidays in Hesse - irrespective of the price category - to the entire RMV area without cross-network fare zones.
Eligible persons may order their 65-plus annual ticket from an RMV sales office with a completed order form including official proof of age. The order must be submitted by the 10th of the previous month.
Replacement if lost subject to a 10.00 Euro processing fee.
In the event that you have forgotten your 65-plus annual season ticket and you are in a situation, which requires your presenting your ticket for inspection, you only have to pay 7.00 Euro instead of the regular 60.00 euro it would normally cost.
In the event of a longer illness or stay at a health spa, the fare can be reimbursed. Get information in the "Refund of fares in the event of illness" section under Special conditions for annual season tickets.
Pricing and Applicability
Points of Sale
The ticket is only available as eTicket RheinMain and for connections within the RMV area. The ticket can be bought up to 8 weeks in advance.
You can download the order form for this ticket on our page Ticket order forms (only available in German).
Terms of payment
2 % discount for payment by direct debit in advance
Twelve monthly direct debit payments (no discounts)
Other
Virtually all your eTicket RheinMain needs are available online at meinRMV: managing your own data, purchasing an annual season ticket, notifying us of a lost ticket so we can issue you with a replacement ticket, etc.
Any changes to your 65-plus annual season ticket subscription (e.g. changes in fare zones) will be implemented in each case on the 1st of the following month if the information is made available to your transport company on no later than the 10th of the previous month.
Subsriptions may be terminated to the end of the month. Until cancelled, the subscription will automatically be renewed by one year.
The following apply