Tickets - overview
Annual season tickets
Frequent travellers can make huge savings with RMV's annual season tickets. Whether you use RMV for work, to get to school or for your leisure needs, they're valid 24 hours a day 365 days a year.
Lower prices for many short trips from/to Frankfurt
Since December 9, 2018, the urban area of Frankfurt (tariff area number 5000) has been subdivided in a smoother manner (new tariff area numbers 5001-5010 and 5059), so that trips between parts of Frankfurt and the surrounding cities and districts on short distances are often more favourable (new price categories 30 and 40). When purchasing tickets, please make sure that you specify the particular destinations or destination fare areas in Frankfurt. You will find all information on the new price categories here.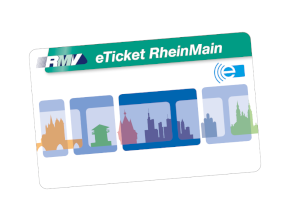 Annual season tickets for adults
---
You can be on the move for 365 days a year with this ticket. One adult and any number children under 15 years can travel free with you at evenings and weekends.
---
Would you like to travel First Class on RMV rail services? Easy! Just get hold of a supplementary ticket. They are available for single journeys or as a supplementary season ticket for your weekly, monthly or annual season ticket.
Schülerticket Hessen - The student flat rate for public transport
---
The Schülerticket Hessen is a personal annual ticket for all school students and apprentices who live, attend school or are undergoing training in Hesse. It can be booked at various sales outlets of RMV, NVV and VRN.