Lower prices for many short trips from/to Frankfurt
Since December 9, 2018, the urban area of Frankfurt (tariff area number 5000) has been subdivided in a smoother manner (new tariff area numbers 5001-5010 and 5059), so that trips between parts of Frankfurt and the surrounding cities and districts on short distances are often more favourable (new price categories 30 and 40). When purchasing tickets, please make sure that you specify the particular destinations or destination fare areas in Frankfurt. You will find all information on the new price categories here.
RMV ticket machines
In the area covered by RMV, there are different types of ticket machines that are operated by various transport companies as RMV sales partners. In order to make it easy for you to use the machines, we have introduced a standard operating procedure wherever possible.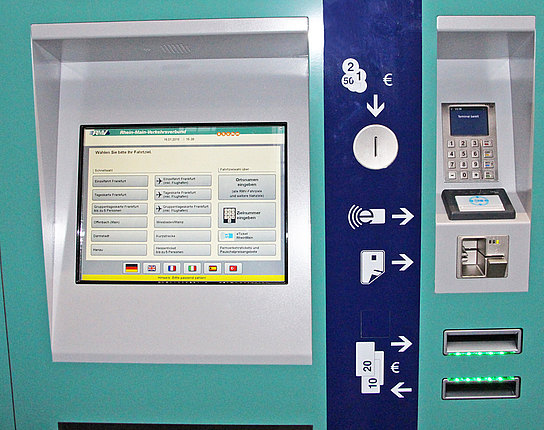 Range of tickets available from RMV ticket machines
You can normally obtain the following from RMV ticket machines:
Single tickets
Short hop tickets (if purchasable)
Day tickets
Group day tickets
Hessenticket
Supplementary tickets
Onward travel tickets
Tickets valid for local travel
In addition to these, many ticket machines provide:
Weekly and monthly tickets for adults, and
Weekly and monthly tickets for schoolchildren and apprentices
Purchasing tickets from RMV ticket machines
For your information, a short summary of the operating instructions is provided below. In case the ticket machine should not work, we'll tell you how to purchase your tickets nonetheless.
To find out more about ticket prices beforehand, please refer to our fares information.
---
As of 1st January 2018, Transdev Vertrieb GmbH has taken over the sales via RMV ticket machines. A total of 638 new ticket machines were set up at regional and city train stops.
Payment for these machines is accepted in the form of coins, bank notes and all current cash-free payment means (girocard, VisaCard, MasterCard). Contactless payment is also possible. When paying in cash, any change can also be issued in notes.
In addition, the ticket machines also feature a second customer display – depending on their location – for example, they provide information in real time on the next departures. The machines are in RMV design and can be identified with the turquoise-coloured casing and RMV start page.
A large range of RMV tickets are available from these machines as well as the possibility to issue monthly and weekly tickets onto the provided chip cards directly on the machine.
More detailed information on updating the RheinMain e-ticket can be found in the article Updating the RheinMain e-ticket. Further information on the RheinMain e-ticket available in the article RheinMain e-ticket – the RMV travel ticket.
---
Other touchscreen machines
Ticket machines with touchscreens are also operated by Verkehrsgesellschaft Frankfurt (VGF), Verkehrsverbund Mainz-Wiesbaden (VMW), HEAG in Darmstadt and Deutsche Bahn (DB).
How to use them
Simply follow the instructions on the user screen:
The new ticket machines start with another start screen, depending on the type. The turquoise-coloured RMV ticket machine starts only with a choice of short-distance travel destinations in the RMV region and beyond the boundaries of RMV. If you want to buy a ticket for long-distance travel (ICE, IC/EC), please switch over to the homepage for long-distance travel by using the "DB long-distance travel tickets". The start page of the red machines displays the entire range of tickets available from DB. However, you can also directly access RMV tickets using the "Verkehrsverbund RMV" button.
You have several options for selecting tickets. You can:

use one of the abbreviated dialling keys
enter or select the destination
enter the two or four-digit destination code

After entering the destination for your journey, select the type of ticket you require. Both RMV single journey tickets and RMV season tickets are available.
Where alternative routes are available through different fare zones, please select your preferred route.
First check the information displayed on the screen and then pay the amount displayed.
Please take your ticket and if required, your change from the change tray.
By simply touching the screen, you can set the operating instructions on the screen to various languages (English, French, Italian, Spanish and Turkish).
As a rule, coins and banknotes are accepted as means of payment. Any cashless payment options will also be displayed on the screen.
---
What if the machine is out of order?
If there is no other option for purchasing tickets at the station or the stop (i.e. if there are no other ticket machines or a sales window), you will have to buy a ticket on board the service, if possible. This does not present a problem for bus journeys. On rail journeys, please inform the station/train staff and/or the conductor immediately that the machine is out of order.
Please note: Make a note of the machine number and the transport company responsible. You can obtain both details on the front of the ticket machine.