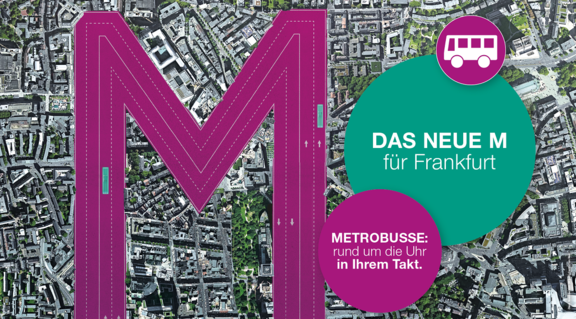 Several central Frankfurt bus routes have been running as "Metro bus routes" every weekday around the clock at frequent intervals.
Metro bus routes: 24-hour operation and a promise of regular service
The Metro bus routes M32, M34, M36, M43, M46, M55, M60 and M72/M73 run around the clock every day of the week, and they run quite frequently: minimum every ten minutes during the day, every quarter-hour on Sundays and public holidays, and every half hour at night. Apart from a few minor exceptions, these frequencies represent the basic minimum service on the Metro bus routes. Depending on passenger volume, the buses run even more frequently.
Here is an overview of the Metro bus network
M32: Westbahnhof – Bockenheimer Warte – Miquel-/Adickesallee – Höhenstraße – Ostbahnhof
M34: Gallus Mönchhofstraße – Rödelheim Bahnhof – Industriehof – Dornbusch – Bornheim Mitte
M36: Westbahnhof – Bockenheimer Warte – Westend – Holzhausenstraße – Konstablerwache – Sachsenhausen Hainer Weg
M43: Bergen Ost – Seckbach – Seckbacher Landstraße – Bornheim Mitte
M46: Hauptbahnhof – Europaviertel West – Römerhof
M55: Sindlingen Friedhof – Zeilsheim – Höchst Bahnhof – Zuckschwerdtstraße – Rödelheim Bahnhof
M60: Rödelheim Bahnhof – Heerstraße – Nordwestzentrum – Heddernheim (– Alt-Eschersheim Im Uhrig)
M72/M73: Nordwestzentrum – Industriehof – Rödelheim / Westbahnhof
Night-time transport information
The Metro bus routes run continuously every 30 minutes at night (no night-time service on the M73 and between Heddernheim and Alt-Eschersheim Im Uhrig on the M60).
Please refer here for information on night-time transport in Frankfurt.
Download timetables
You can find the current timetables here.
---
RMV Frankfurt: Download route network map
Network map for Frankfurt am Main.
Valid from 11 December 2022