Safety on buses and trains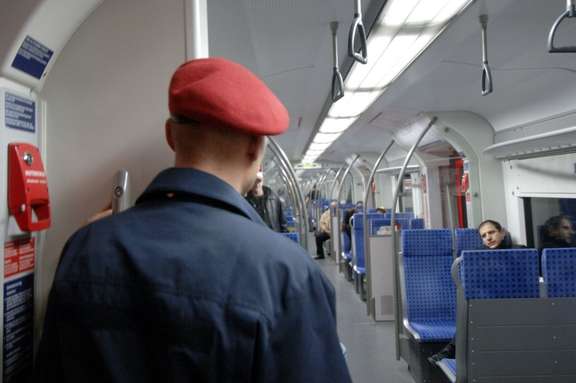 Passenger safety is an important issue for RMV, which it is also seen consistently promoting. A stronger presence of personnel and technical monitoring possibilities are emphases that are being applied and expanded rigorously.
It goes without saying that local public transport organisations and transport companies in the entire RMV area also make every effort to ensure the safety of their passengers.
This ranges from installing video cameras in buses and live cameras at bus stops, through to driver training with a focus on "de-escalating behaviour" and it includes equipping stations with video cameras as well as emergency call and information desks for faster help in an emergency.
Emergency brakes:
When the vehicle is above ground, the braking effect can be felt immediately.
The train stops in the tunnel area only at the next accessible station.
Intercom to the driver:
in all underground trains, suburban trains and "type S" trams.
at the bus stops in the door area, on the left side of the doors and in the multi-functional area.
Emergency call facilities (SOS-Notruf-Sprechstellen or Infosäulen mit Notruf):
in all underground and some above-ground suburban railway stations, at the platforms as well as at many suburban stations.
direct contact either to the police or to the Safety and Service Centre of the VGF
Information desks monitored by camera
Security forces of VGF and Deutsche Bahn (only in German):
ensures passenger safety.
Contact person in an emergency, also for first aid