Mobile ascending aid for wheelchair users in Frankfurt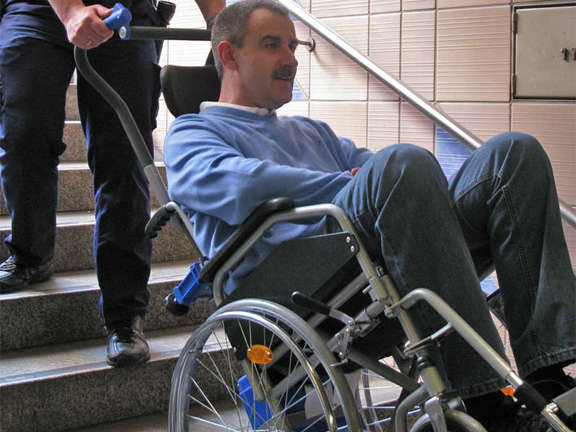 At the Frankfurt Transport Company (VGF), ascending aids are available to help wheelchair users at underground stations in Frankfurt to safely navigate stairs, for example if an elevator is defective, or not available.
Accessing stairs safely
The mobile ascending aids are operated by appropriately trained employees. The wheelchair is hooked into a device, that allows it to climb or descend stairs safely. Since the maximum weight of the ascending aid is about 180 kilograms, passengers with an electric wheelchair are transferred to a normal wheelchair if necessary and the electric wheelchair is transported separately.
You will find our ascending aids permanently located at the "Hauptwache", "Konstablerwache", "Bockenheimer Warte" and "Festhalle/ Messe" stations. From there, they can be brought quickly and easily to all other underground stations in Frankfurt where their use is required.
Simply ask for them
This service can be requested from the VGF Safety and Service Centre
free of charge via the emergency call and information desks in the stations or
by telephone at (069) 213-2 27 08