Knut: Flexible local transport for the north of Frankfurt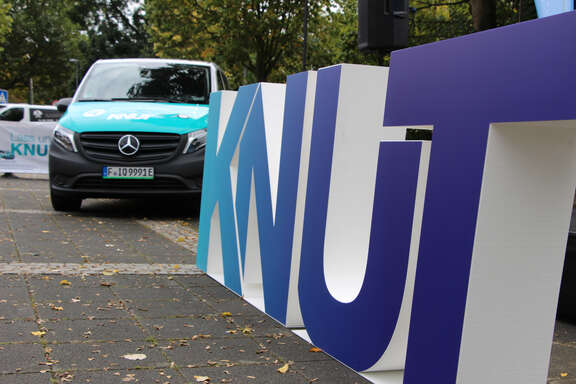 It doesn't always have to be bus and train: With the On-demand service "Knut", passengers in the north of Frankfurt benefit from a completely flexible local transport system. Three electric minibuses operate daily from 5 a.m. to 1 a.m. - with no fixed departure times and no fixed routes. For boarding and alighting, passengers have access to over 600 "virtual" as well as existing stops. Journeys between the city districts are just as easily feasible as journeys to transfer points such as the underground stations Nieder-Eschbach, Bonames Mitte and Kalbach as well as the suburban train stations Berkersheim and Frankfurter Berg.
The service area
The service region for Knut includes Bonames, Harheim, Nieder-Erlenbach and Nieder-Eschbach and thus creates a connection between the four districts. Knut complements the existing public transport services and offers a further feeder function to the underground train routes U2, U9 and the suburban train route S6.
Unlike buses and trains, there is no timetable with Knut. You order Knut when you want to go and the electric shuttle is usually there in less than 10 minutes. If other Knut users want to go in the same direction as you, Knut picks them up on the way.
The Knut fare
One trip, one fixed price – no matter how long you are on the road. If you own a valid ticket, the basic fare is waived. Payment is made via the payment method stored in the app – by credit card, via PayPal or with cashless payment in the vehicle.
| | | |
| --- | --- | --- |
| | Normal | Reduced fare* |
| Basic fare | 2.00 euros | Not applicable |
| Convenience surcharge | 1.00 euros | 1.00 euros |
| Price per km | 0.30 euros | 0.30 euros |
* Children, holders of a valid ÖPNV (Local public transport) ticket, passengers
Questions about Knut

KNUT operates daily from five o'clock in the morning until one o'clock at night. On Saturday and Sunday nights, KNUT ist out and about araound the clock..

The electric minibuses offer five seats. It is easy to get in and out thanks to the large sliding doors on the side. The interior is spacious so that no seats have to be folded down when getting in or out.

There is a basic fare of two euros per journey, but holders of a valid ticket, children and passengers are exempt from this. In addition, there is a convenience surcharge of one euro and a kilometre price of 30 cents. Passengers can pay via the app by credit card or PayPal. You can also pay by card in the vehicle.

You can order your journey via the RMV On-Demand app. For passengers who do not have access to the On-demand app, it is also possible to book a journey by telephone.

For a telephone booking, passengers must register once in person RMV-MobilitätsZentrale Frankfurt - Verkehrsinsel at Hauptwache and they will be assigned a customer number. Once you have stated the customer number, you can book your journey via the RMV service telephone (069 / 24 24 80 24).

In Frankfurt, On-demand shuttle transport is called KNUT. KNUT stands for Kompakt (Compact). Nachhaltig (Sustainable). Urban. Typically Frankfurt. The name of the new means of transport should be short, easy to understand and quick to remember. Just KNUT, that's all.

General questions

Anyone can use the On-Demand services on RMV. Children (up to and including 5 years of age) require a child seat or infant carrier and must be accompanied by a person of adult age. Children and young people (6 to 12 years or up to 150 cm tall) need a seat raiser. This is available in the vehicle.

Please use our customer portal to reach the contact person responsible for your individual request. Alternatively, you can contact us via the RMV service telephone (069 / 24 24 80 24), or Facebook and Twitter.

After the ride, you have the option to rate the service in the app.

The On-Demand app and the On-Demand service can be used by everyone. When booking, you can indicate if you need a wheelchair or walker space. Vehicles are equipped with a ramp for barrier-free access. People with visual impairments can operate and use the app via voice-over. The basic fare is waived for holders of a severely disabled pass.

Questions on booking

Yes, telephone bookings are also possible. To do so, you need to register with our local partner. There you can then also book a ride by phone.

If you give us sufficient notice, you can cancel your booking free of charge. You can do this in your booked journeys under "Details".

a) In the case of an ad-hoc booking with an immediate request for a ride, a cancellation free of charge is possible up to 60 seconds after booking.

b) For advance bookings or permanent bookings, a journey can be cancelled free of charge up to 60 minutes before the journey.

Once you have entered your starting point and destination address, you can enter further details such as the number of people.

You will receive the booking code after your booking has been confirmed in the app. Please have the code ready when boarding the vehicle and give it to the driver.

After booking, you will receive a trip confirmation and a booking code. Please go to the pick-up stop at the booked time, you can see the estimated time of arrival at the pick-up location in the app. Please be prepared with the booking code when boarding.

Questions about the journey

Virtual stops are the places where you get on or off the On-demand shuttle. These are usually even closer than the nearest public transport stop. The on-demand app will guide you to your virtual stop after booking. Alternatively, our customer service will tell you exactly where you will be picked up.

The driver will wait for a few minutes at the pick-up location and will try to call you. If you are not available, your journey will be cancelled. A fee may be charged for this.

You can take one piece of hand luggage with you, e.g. a bag or a rucksack. If you have larger items of luggage such as suitcases or prams, please indicate this when booking. Bicycles or bulky items cannot be carried.

In the app, you can see where you will be picked up, which vehicle is coming and when it is expected to be there. You can track the current position of the vehicle at any time.

The app will show you which vehicle is picking you up. The vehicle type and registration number will be provided for precise identification. You can find more information by clicking on "Vehicle" under the journey details.

The app will show you which vehicle is picking you up. The vehicle type and registration number will be provided for precise identification. You can find more information by clicking on "Vehicle" under the journey details.

Questions about payment

If you have an RMV travel permit valid in the area being serviced, you can indicate this when making your booking. The discount will then be automatically taken into account.

You can pay by credit card, PayPal or with cashless payment in the vehicle. You select your preferred mode of payment in the app. When booking via the app, the fare is already displayed before the booking is completed. You can also pay with cashless payment in the vehicle when booking by phone.

The RMV 10-minute guarantee does not apply to on-demand shuttle services, as these do not run according to a timetable.
No matching questions found
Further information on the project
The joint project OnDeMo is running as a pilot project until 31.12.2024. For more detailed information on the project, which is funded by the Federal Ministry of Transport and Digital Infrastructure, please visit https://sites.rmv.de/ondemo.
Legal information