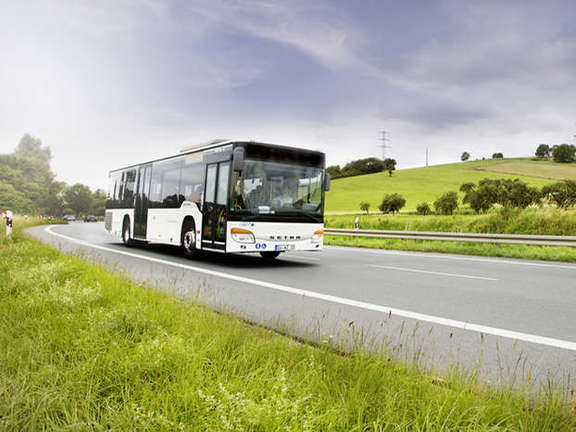 The bus lines in the RMV area are put out to tender by the RMV itself or the local public transport organisations (LNO) and awarded by means of a transport contract once the application procedure has been completed.
As part of the invitation to tender, the vehicle requirements are specified as minimum standards by the respective organisation. The minimum standards are usually fulfilled by several vehicle manufacturers. It is the responsibility of the transport company to decide as to which vehicles form the basis of an offer and with what equipment. Contract conformity exists so long as the minimum requirements are met. For this reason, the vehicle types vary in the transport area of RMV.
Thanks to a regular cycle of tendering and a requisite maximum vehicle age of 8 years (RMV), modern and comfortable vehicles are in use, which can also be used by passengers with reduced mobility.
Tip: The equipment of the respective vehicle type is considered in the individual enquiry for barrier-free journey chain (only in German).
General information
The selection of the respective vehicle type is based on the demand. The following vehicles are mainly in use:

Midibus (only LNO)
Rigid bus
Articulated bus
If required, minibuses (only LNO) and bus trains are also advertised for tender.
Special equipment for people with restricted mobility:

Low-floor vehicles: special low-lying floors in the interior, step-less with lateral lowering device while getting on and off the bus at the stop (Kneeling)
Low Entry Vehicles: Step-less entrances and low-floor area or step-less passage between door 1 and door 2
Specially marked seats: near the door
Boarding aid: Platform at door 2, to be actuated manually, max. 350 kg load capacity
Calling facility (switch): on door 2 outside as well as in the zone of the multi-purpose area for requesting help
Entry and Exit
Doors

Of contrasting colour: no
Number of doors: at least 2 doors, of which one door with double width, Articulated bus: 3 doors of which 2 doors with double width
Clear inner width of double door: 1250 mm (+/- 50 mm)
Steps in the entry area: no
Lowering: upon approach of boards with 22 cm, adhering to the distance of Bus/Board: 5 cm
Interior fittings
Multi-purpose areas for wheelchairs, prams or bicycles: yes, with a backrest, holding device and folding seats across/near door 2 or also at door 3 in articulated buses
Air conditioning / Heating of passenger area: yes
Permanently installed dustbin: yes
Information
Travel destination displays outside: Full matrix display at the front, right side, rear and possibly left side
Travel destination displays inside: next stop
Acoustic announcement: automatic stop and changeover announcements
Coach-stop-display: optically and acoustically confirms the pressing of the stop call button
Safety
Equipment of the vehicles with at least 4 (rigid bus) or 6 (articulated bus) cameras
Pollutant emission
While entering into the transport service, the vehicles must conform to the respective highest required European standard. Since 2013, vehicles with European standard 6 are allowed. All vehicle used at present meet the European standards 5 to 6 (RMV).
Minimum standards for buses in RMV
The "Minimum standards for buses in the Rhine-Main transport association" are stipulated in a catalogue of the most important comfort and service facilities for scheduled buses on the routes tendered by the RMV. These include technical features, passenger comfort and information, appearance, distribution and passenger safety. Different regulations may apply on local lines.
Minimum standards for buses in RMV (PDF), in German