Transferable adult annual season ticket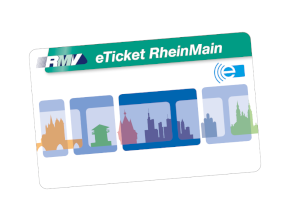 For as many journeys as you like on all RMV modes of transport
You can lend it to friends and family
Every day from 7 p.m. and on weekends and public holidays all day: take one adult and as many children under 15 as you like free of charge
Available in 2 types: annual season ticket and the cheaper 9.00 annual season ticket
No subscription
Onward travel ticket

Yes

Holder may be accompanied by other persons

Yes, RMV regulations governing accompanied ticket holders apply

Transferable

Yes

Use for First Class travel

Yes, with 1 supplement per person per journey or supplementary season ticket

Cross-network fare

Yes

Dial-a-ride taxi service (AST), express bus, etc.

Yes, in some cases with a supplement (1 supplement per person per journey)

Use of IC service

In part: IC service can be used with the Transferable annual season ticket and an IC surcharge ticket, but not with the Transferable 9.00 annual season ticket

Mobility Guarentee

No

eTicket RheinMain

yes, not in cross-network fare - for details visit eTicket RheinMain
If you lose your eTicket RheinMain smartcard, it can be replaced against payment of 10.00 euro and presentation of the sales receipt.
The transferable adult annual season ticket is valid every day of the week round the clock.
The transferable 9.00 annual ticket is valid from Monday to Friday as of 9.00 am and all day long on weekends and public holidays. It offers a price advantage of 15-25 % compared to the "normal" annual pass.
Price and Applicability
The ticket price varies by the tariff relation used. To determine the fare please use our fares information and print out the list "Approved cities / communities".
Points of Sale
The ticket can be bought up to 8 weeks in advance. For connections within the RMV area it is only available as eTicket RheinMain.
Terms of payment
Payment in cash in advance
2 % discount on the annual season ticket subscription paid by direct debit in twelve monthly payments
Other
Virtually all your eTicket RheinMain needs are available online at meinRMV: managing your own data, notifying us of a lost ticket so we can issue you with a replacement ticket, etc.
Any changes to your annual season ticket (e.g. changes to the fare zones) may be made in each case on the 1st of the following month if the information is made available to your transport company on no later than the 10th of the previous month.
The validity of the annual season ticket paid for in cash in advance expires automatically after 12 months.
Annual season tickets can be returned at the end of a month. For each month the ticket was used, the cost of a respective monthly ticket is charged.
Special distribution conditions may apply for key account customers.
The following apply: