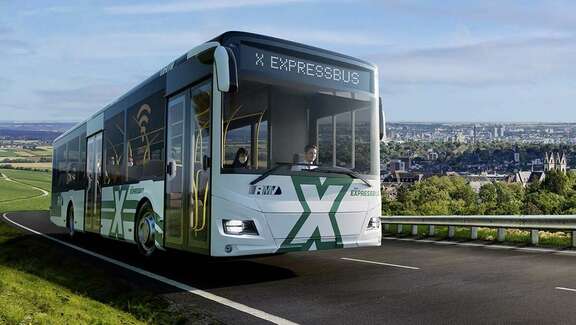 In the RMV area, Express bus lines make a fast and comfortable complement to the train. Some of them run like a ring around Frankfurt and are spread far into the region. Others are transferring the concept to the region. They are supplemented by local Express buses in Frankfurt.
The express buses are easy to recognize from the outside thanks to the eye-catching vehicle paintwork, each with a large "X" letter, have modern equipment and also WiFi. On the express buses you can use WiFi for free without registration: activate WiFi on your smartphone, select "WLAN@RMV" as network, select any website and accept the terms of use.
Express bus ring around Frankfurt
The Express bus network is not directed towards Frankfurt in a star-shaped manner like the railway lines; rather, it connects the places on the periphery of the Main metropolis directly with one another. Thereby, the trip into and again out of Frankfurt city centre, often linked to detours, has become unnecessary. In addition to the attractive travel times, the Express bus lines stop at central stations and are also directed towards optimised changeovers.
Line X14/X15: Darmstadt – Walldorf – Flughafen Frankfurt Terminal 1
Line X17: Hofheim – Hattersheim – Frankfurt Flughafen Terminal 1 – Neu-Isenburg
Line X18: Dietzenbach – Neu-Isenburg – Frankfurt Flughafen – Walldorf
Line X19: Obertshausen – Heusenstamm – Neu-Isenburg – Frankfurt Flughafen Terminal 1
Line X26: Wiesbaden – Hofheim – Königstein – Oberursel – Bad Homburg
Line X27: Königstein – Kronberg – Oberursel – Bad Homburg – Karben – Nidderau
Line X33: Alsfeld – Grebenau – Niederaula – Bad Hersfeld
Line X35: Alsfeld – Stadtallendorf – Kirchhain – Lahnberge – Marburg
Line X37: Gladenbach – Bischoffen – Mittenaar – Herborn
Line X38: Gladenbach – Niederweimar – Marburg
Line X39: Alsfeld – Schrecksbach – Treysa
Line X40: Gladenbach – Biedenkopf
Line X41: Biedenkopf – Dillenburg
Line X57: Hanau Hauptbahnhof / Hanau Freiheitsplatz – Maintal – Frankfurt-Enkheim (Hessen-Center)
Line X64: Heusenstamm – Obertshausen – Hanau Hauptbahnhof – Hanau Freiheitsplatz
Line X69: Darmstadt – Reichelsheim
Line X71: Darmstadt – Groß-Umstadt – Wiebelsbach
Line X72: Wiesbaden – Kirberg – Limburg
Line X74: Darmstadt – Münster – Eppertshausen – Ober-Roden
Line X76: (Miehlen –) Nastätten – Kemel – Wiesbaden
Line X78: Darmstadt – Groß-Zimmern – Klein-Zimmern – Semd
Line X79: Bad Schwalbach – Schlangenbad – Walluf
Line X83: Langen – Dreieich – Neu-Isenburg – Offenbach
Line X89: Weilburg – Weilmünster – Grävenwiesbach
Line X93/X94: Neuberg-Rüdigheim / -Ravolzhausen – Erlensee – Hanau Hauptbahnhof
Line X95: Büdingen – Erlensee – Bruchköbel – Frankfurt-Enkheim
Line X97: Bad Vilbel – Frankfurt – Offenbach
X53: Airport Terminal 1 – Zeilsheim – Höchst Bf – Höchst Bolongaropalast
X58: Höchst Bahnhof – Airport Terminal 1
X61: Südbahnhof – Gateway Gardens Nord – Airport Terminal 1
X77: Südbahnhof – Gateway Gardens – CargoCity Süd
---
RMV express bus lines network map
All express bus lines in the greater Frankfurt RheinMain area.
Valid from 11 December 2022