Long-distance supplementary ticket and use of ICE services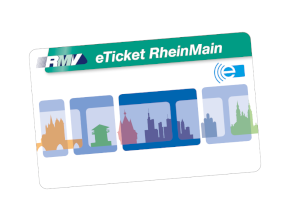 Savings on RMV services for ICE commuters
Cost savings of up to 45 per cent compared to standard tickets
Long-distance supplementary ticket as eTicket RheinMain – the RMV Mobiliy card
The long-distance transport supplementary ticket year is stored on the eTicketRheinMain. It offers passengers additional convenient services. You can find more information under eTicket RheinMain – the RMV Mobility card.
Onward travel ticket

No

Holder may be accompanied by other persons

Adults:Yes. Apprentices: No.

Transferable

Adults: Yes, if the ticket is paid for in cash. Subscription tickets are not transferable. Apprentices: No.

Use for First Class travel

Yes, with 1 supplement per person per journey or a supplementary season ticket (long-distance supplementary charge or standard supplement)

Cross-network fare

No

Dial-a-ride taxi service (AST), express bus, etc.

Yes, in some cases with a supplement (1 supplement per person per journey)

Use of IC service

No
The long-distance supplementary ticket is aimed at commuters who use a season ticket for an ICE route, with the start or destination in the area covered by the RMV network. RMV transport services can be used with this ticket.
It is only valid in conjunction with a named ICE-valid season ticket. The periods of validity of both tickets must not be identical. For example, a weekly RMV long-distance supplementary ticket can be used with a monthly or annual ICE-valid DB route season ticket. It is essential that both tickets are valid at the time of use.
It is aimed at adults and apprentices.
Available as a weekly or monthly ticket and for adults as an annual ticket.
It can only be issued from the starting point or destination for the long-distance ticket.
In case of loss, compensation in return for a handling fee of 10 euro.
In the event of a longer illness or stay at a health spa, the fare can be reimbursed. Get information in the "Refund of fares in the event of illness" section under Special conditions for annual season tickets subscriptions.
Price and Applicability
You can find the price of your ticket in our timetable information. You can find the applicable fare information by looking at the journey planner.
Sales outlets
Other
The long-distance supplementary ticket on its own is not valid for travel on RMV, nor is it valid in conjunction with transferable season tickets for long-distance routes, with named IC-valid season tickets for long-distance routes or with a BahnCard 100.
Special conditions for long-distance supplementary ticket.
Our common conditions of carriage (only in German) and fare regulations (only in German) apply.