Connection information with multi-modal information
With the RMV Web App, we have revised our connection information for mobile devices on m.rmv.de. Passengers can use the RMV connection information to plan their itineraries not only for classic public transport, but also for other means of transport and mobility offers.
Additional combinations with car sharing, bike sharing, scooter sharing, taxi or your own bicycle are also possible. As the first mobility option, the "classic" public transport connection will continue to be displayed in the connection information. In addition, customers can also choose the combination with a bike, a car or their own bicycle.
Occupancy projection integrated
The predicted vehicle occupancy is shown as a pictogram in the route information overview. If the system predicts that the desired route will have a large amount of passengers, you can chose alternative routes with less passengers.
Proven functions and services
The RMV Web App provides you with common functions like connection details, connection sharing, calendar export or line history. Customers can also view all mobility options such as stations and stops as well as car sharing and rental bicycle stations on the map.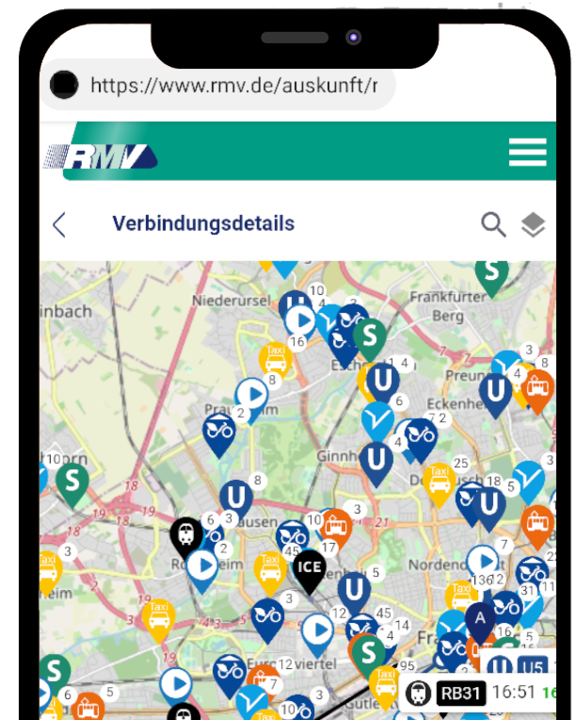 Suitable for all mobile devices
The RMV Web App for all smartphones and tablets is available at www.rmv.de. The layout automatically adapts to the size of the display and promises optimum operability to suit your end device.
Tip for users with a Google or Apple account: You can also install the RMVgo that provides the option to buy tickets via RMV mobile ticket and many other options. It is available for free download in the AppStore/iTunes and in the Google Play Store and you can find it by entering the keyword "RMV".