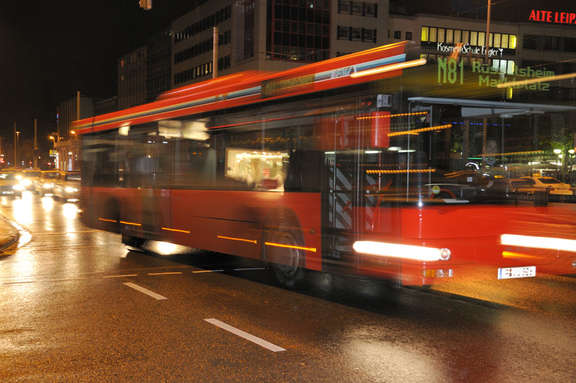 In Mainz and the surrounding region, the night lines 6, 50, 51, 52, 66, 68, 90, 91, 92 and 93 will get you from A to B until late at night.
Questions and answers on the Night lines
On which days do the Night lines operate?
The night lines operate daily until late at night.
At what times do the Night lines operate?
From Sunday to Thursday, the night lines operate from the city to the suburbs until 1.00 a.m. In addition, bus lines 50 and 90 also offer a night journey at approximately 2.05 a.m. and 3.05 a.m. This means that some suburbs have an around-the-clock service also during the week.
On Fridays, Saturdays and before bank holidays, trams and buses operate until ca. 4.00 a.m.
The main interchange station is "Mainz central station". The Night lines meet here at 0.00 (only Sundays to Thursdays as the day routes operate until 1.00 a.m. on Fridays and Saturdays) and at 1.00 a.m. On Friday nights, the buses and trams operate hourly from 1.00 a.m. to 6.00 a.m., on Saturdays nights until 8.00 a.m.
Where do the Night lines travel to?
Tram line 50: Hechtsheim - Mainz Innenstadt - Finthen
Tram line 51: Lerchenberg - Finthen
Tram line 52: Hechtsheim - Bretzenheim
Bus line 6: Mainz-Gonsenheim/Wildpark - Mainz Münchfeld - Wiesbaden Nordfriedhof
Bus line 66: Nieder-Olm - Mühldreieick - Brückenplatz
Bus line 68: Hochheim Altenwohnheim - Budenheim Bahnhof
Bus line 90: Laubenheim Rüsselsheimer Allee - Marienborn Bahnhof
Bus line 91: Ginsheim Friedrich-Ebert-Platz - Finthen Theodor-Heuss-Straße - Wackernheim Rathausplatz
Bus line 92: Weisenau Friedrich-Ebert-Straße - Mainz Innenstadt - Gonsenheim Wildpark
Bus line 93: Hechtsheim Frankenhöhe - Lerchenberg Hindemithstraße
Which tickets are valid on the Night lines?
Tips
Passengers can also ask the bus driver to drop them off in between stops (where it is safe to do so).
All Night line journeys as well as the late journeys with the normal routes are included in the Routes enquiry.
Questions?
If you have any questions, please contact the RMV hotline.