BahnCard 25 / BahnCard 50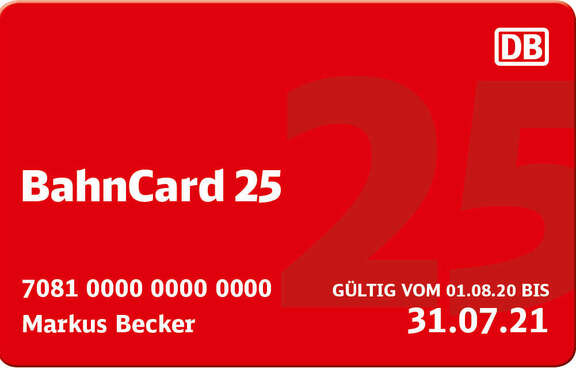 25 per cent reduction for local rail journeys in the price level 40, 5, 6, 7, 17 und 45
Onward travel ticket

No

Holder may be accompanied by other persons

No

Transferable

No

Us of First Class travel

Yes, with 1 supplement per person per journey (also with BahnCard First)

Cross-network fare

Yes

Dial-a-ride taxi service (AST), express bus, etc.

No

Use of IC service

Yes, based on DB fares

RMV mobile ticket (RMV-HandyTicket)

Yes
Holders of a BahnCard 25 or BahnCard 50 can purchase single tickets at price levels 40, 5, 6, 7, 17 and 45 at reduced cost. These can only be used on RMV's rail services – excluding underground and tram services.
This regulation also applied to children of between 6 and up to and including 14 years of age.
Sales outlets
The BahnCard reduction is available

from all sales machines on regional railways
from selected ticket machines at Konstablerwache and Hauptwache stations in Frankfurt
Prices
The price reduction is always 25 per cent of the standard fare.
Other
Our common conditions of carriage (only in German) and fare regulations (only in German) apply.
---
Deutsche Bahn website - info on BahnCard