Gießen: Venus and Saturn night buses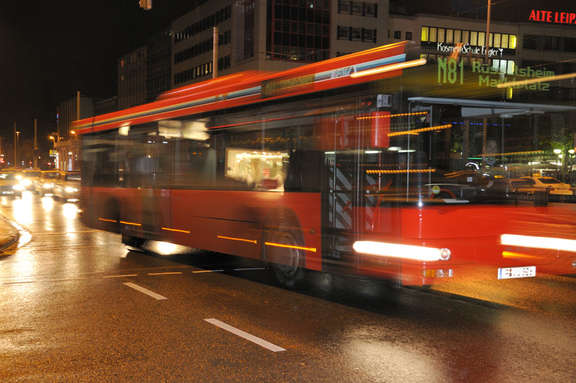 On weekends and before bank holidays, the planets do their rounds in Gießen: This is when the night bus services "Venus" and "Saturn" operate until the early morning hours.
Questions and answers on Venus and Saturn
On which days do the night lines operate?
"Venus" and "Saturn" night buses operate on the nights from Friday to Saturday and Saturday to Sunday, as well as before bank holidays.
At what times do the night lines operate?
The buses depart hourly from "Berliner Platz" in Gießen. The Venus line operates from 0.27 a.m. to 4.27 a.m., the Saturn line from 0.30 a.m. to 4.30 a.m.
The connecting taxis operate according to the bus times.
Where do the night lines travel to?
The night buses depart from "Berliner Platz" in Gießen and travel around the city region in a north-western and south-eastern loop.
The town districts Rödgen, Allendorf and Lützellinden are served with connecting taxis. On the Saturn route, passengers connect to these taxis at "Waldweide/Schleife" to head towards Allendorf, Kleinlinden and Lützellinden, and at "Waldstadion" to head towards Rödgen.
Which tickets are valid the night routes?
The use of the night buses and connecting taxis is currently free.
Tip
If you would like to use the connecting taxis please tell the driver as soon as you get into the Saturn bus.
Questions?
If you have any questions, please contact the RMV hotline.
---
Stadtwerke Gießen (SWG) website – night bus timetables