Service
Be it passenger rights, lost property or mobility training: Our service package offers you comprehensive information and offers (only in German).
Guarantees & rights of passengers
The following applies in principle: Passengers can expect their mode of transport to be punctual. If this does not happen, there are various ways to get part of the fare back, for example.
Our aim is to get you to your destination on time. Unfortunately, that might not always happen. But then, you can get your money back at your destination for as little a delay as 10 minutes.
Passengers are entitled to compensation or reimbursement of the fare in the event of delays or cancellation of the train. In addition, under certain conditions, costs for alternative transport by long-distance train or taxi may be reimbursed.
Passenger rights in railway transport (only in German)
Your concern can reach us and our partners in many ways: quickly via the online service portal, personally on site or on the service phone, or traditionally by post or fax.
RMVsmiles: Travel with RMV, collect points and experience more
Anyone who has registered on rmv.de, will receive bonus points with every ticket purchased in the RMV TicketShop or as MobileTicket. The Smiles can then be redeemed against discount vouchers from outlets in the entire network region.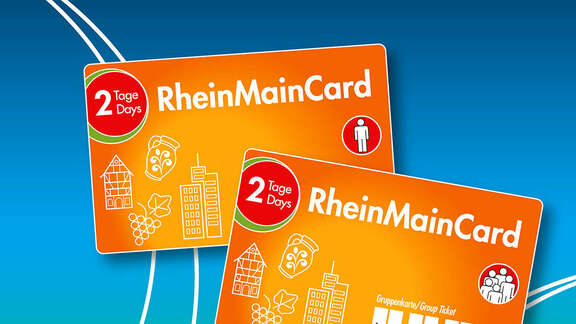 RheinMainCard
The RheinMainCard offers great discounts at more than 40 recreational establishments which makes it perfect for your next excursion as it also includes bus and rail travel.
Interactive leisure planning
Our interactive map lets you check out all our tips for days out and lots of tourist attractions so you'll know precisely what there is to discover and where to find it.
We'd be delighted to take you there and of course bring you back!