Ticket range
RMV tickets open up the entire network to you – whether you are travelling from Marburg to Erbach or from Limburg to Fulda. They are valid for all modes of transport and services operated by the companies affiliated to the transport network. There are also a number of tickets valid for local services only which allow specific passenger groups to travel at particularly cheap rates.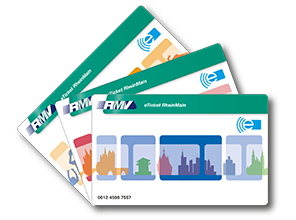 Anyone who travels a lot can make huge savings with RMV's annual season tickets. Whether you use RMV for work, to get to school or for your leisure needs, they are valid 365 days a year right around the clock. Choose from:
An RMV monthly ticket gives you cheaper travel from the fourth week onwards than with individual weekly tickets. And your month doesn't even have to start on the 1st. You can choose from:
For price level 6, you'll start saving money with a RMV weekly ticket for adults after just 3 return journeys. As well as that, one person travels free with the holder in the evenings and for the whole of the weekend. It's so easy to save money. Choose from:
Travelling here and there or back and forth? You can explore the RMV network in one day. Travel alone or in a group, in just one fare zone or throughout Hesse. We have just the ticket for you:
Caught in the rain and forgotten your umbrella? Then hop onto a bus or rail service! Even if it's an exception when you use public transport, we have the right ticket for you:
Tickets for special occasions
Theatre on Friday? Stadium on Saturday? A trip out on Sunday - in First Class? Our tickets for special occasions are the perfect combination of pleasure and practicality.
Mobility doesn't end at the limits of the RMV network. If you're travelling further, faster and with Deutsche Bahn tickets, there's a variety of supplementary and combination offers to add to your RMV tickets.
Tickets for special group travel
Companies and universities also care about how their staff and students travel. Our range of tickets provides environmentally friendly and practical solutions:
Information on special group travel
Good information gets you there safer – and often cheaper. We provide special information and/or offers for various types of group travel:
Here you can find out about our partners' tickets that are valid on local services for a wide variety of passenger groups: schoolchildren, conference delegates, disco-goers, tourists and hotel guests.