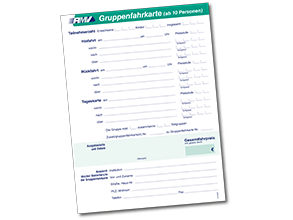 For 10 to 50 people
Also available in advance up to four weeks before travel
Onward travel ticket

No

Transferable

No

Use for First Class travel

Yes, with 1 supplement or supplementary season ticket per person per journey

Cross-network fare

Yes

Dial-a-ride taxi service (AST), express bus, etc.

Yes, in some cases with a supplement (1 supplement per person per journey)

Use of IC service

No
The RMV large group ticket entitles groups from 10 to 50 people – adults or children (of between 6 and up to and including 14 years of age) – to travel:

for one journey in authorised fare zones when issued as a single ticket; not valid for round trips or return journeys or when you need to break your journey
for a return journey in authorised zones when issued as a return ticket; you are not permitted to break your journey
from the start till close of operations on the date entered on the ticket in the authorised fare zones when issued as a one-day ticket
It is valid on all RMV services, i.e. on regional rail services, buses, trams, underground and S-Bahn services
Sales outlets
It is important to plan the journeys precisely, since additional seat capacity may have to be ordered from the transport company for larger groups. If this is necessary, make sure to order the large group ticket sufficiently in advance. Due to the individual calculation, it is not possible to purchase tickets via the local ticket vending machine or online.
The RMV large group ticket can be purchased here:
RMV Mobility Centres (only in German)
Selected RMV distribution outlets
In the VGF ticket centres

Hauptwache Passage
Konstablerwache Passage
underground station Bornheim Mitte
railway station Höchst Kiosk bus terminal
Other
Large group tickets can also be purchased in advance up to four weeks before travel.
If your event is cancelled, the large group ticket is refundable upon payment of a 5.00 euro processing fee per ticket. Please note: Once the ticket becomes valid it can no longer be returned. A partial refund is also not possible.
Our common conditions of carriage (only in German) and fare regulations (only in German) apply.