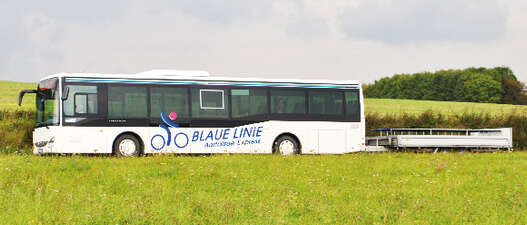 Leisure buses
Hikers and bikers can explore particularly beautiful regions with our leisure buses. These are usually operated on weekends and public holidays in the summer half-year and mostly carry bicycle trailers. The different services:
Blue route in the Lahn-Dill leisure region
High Rhön bus
NaTourBus - from Neckar through the Odenwald to the Main
Rhön cycle bus
Vogelsberger Vulkan Express
Weiltal bus in Taunus
Extended capacities on RMV train lines
In the cycling season from May to the end of October, the RMV increases the capacities on several leisure lines. This way, more bikes can be taken along on weekends and public holidays.
RMV train line RB10: Additional offer (RheingauLinie: Frankfurt - Wiesbaden - Neuwied): Between Frankfurt and Assmanshausen far more trains on Saturdays and Sundays.

RMV train line RB34: Additional offer (Nidder Valley Railway: Glauburg-Stockheim - Bad Vilbel - Frankfurt): On Saturdays, Sundays and public holidays many trains are operated with additional capacity for taking bikes along.

In Glauburg-Stockheim, the Nidder valley railway is connected to routes of the Vogelsberger Vulkan Express. These leisure buses travel radially from the entire region around Vogelsberg to Hoherodskopf and take you to popular excursion destinations or to the volcano cycle path and the Southern Railway cycle path.

RMV train line RB52: Additional offer (Rhön Railway: Fulda - Gersfeld): On Sundays and public holidays additional trains in each direction - this will ensure an hourly service at peak times. The trains each offer 24 bicycle racks.

Connection to leisure buses:

In Fulda and Gersfeld, the Rhönbahn (Rhön railway) is connected to the RhönRadBus (Rhön cycle bus). The bus travels from Fulda parallel to the Milseburg cycle path to Hilders and further on over the Wasserkuppe to Gersfeld and back.
On weekends and public holidays, you can also explore the neighbouring Bavarian Rhön from Gersfeld with the Hochrhönbus (High Rhön bus).