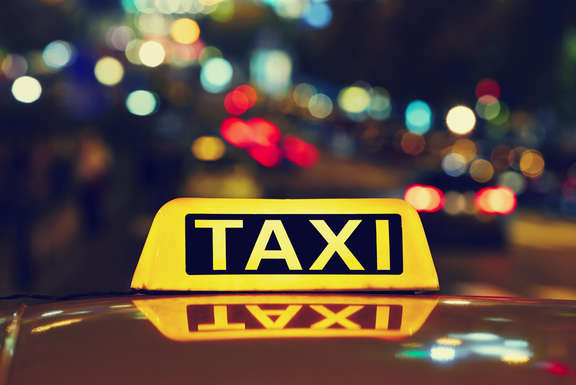 Get in and travel to the destination by bus, train, taxi or combined transport: the mobility services of local public transport and taxis complement each other meaningfully - mainly in the off-peak hours. This seamless connection facilitates travelling from "door to door". Safe, fast and reliable.
The passengers have many taxi options in the RMV region: Shared taxis, regular taxis, on-demand buses, Fifty-Fifty-Taxis or conventional taxis. You can book by phone, online or through the RMV app, depending on the type of taxi.
Book a taxi with the RMV App
The RMV App and the mobile RMV website can be used to book a taxi quickly and easily in the metropolitan area of Frankfurt Rhein-Main.
The Taxi Germany service offers passengers taxi companies from Frankfurt, Offenbach, Hanau, Wiesbaden, Mainz, Rüsselsheim, Darmstadt and Kronberg am Taunus. According to the customers' request, the suitable taxi can be booked in the RMV App on the side menu under "Park, traffic and leisure > Taxi Germany" and from the mobile website under "Home". There are several options for this: online entry, phone call (and automatic location data transmission after consent) or by selecting a taxi from the ticket. The service also offers a fare overview. The calculation is done quickly and clearly.
RMV has integrated all locations of taxis and taxi stands into its multimodal map service.
Visit our page "RMV-App & RMV-HandyTicket" for more information regarding the RMV App.
Taxi booking on www.rmv.de in the mobile view in images
Taxi offices with uniform calling numbers
Under the service number (area code) 19410, you can directly contact the local taxi offices in many cities and municipalities in Germany.
The area code needs to be selected only when calling from a mobile phone.
Taxi offices in the RMV region