Travelling safely by bus and rail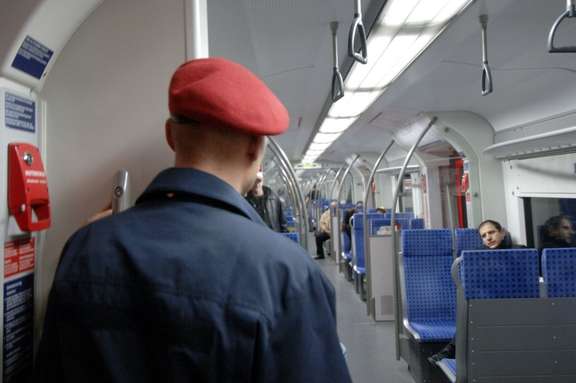 For RMV, passenger safety is an important issue. Increased staff presence and technical surveillance equipment are important measures that are already in use and will be systematically expanded in future.
Passenger safety through deployment of staff
In order to increase passenger safety on local public transport, RMV is thoroughly committed to providing a staff presence:
Free travel for uniformed police officers
As of 1995, all uniformed police officers are entitled to free travel on all RMV services.
Security attendants on S-Bahn services
Since 1996, RMV together with Deutsche Bahn has also guaranteed the presence of a security attendant from 21.00 hrs on every S-Bahn service. The attendant is generally stationed in the first carriage so that passengers know where they should aim to board the service. Patrols are also deployed to accompany specific services according to priorities.
Train attendants on regional trains
In its tenders for regional rail transport services, RMV requires all trains to be staffed.
Passenger safety through vehicle design
Consistency
Key elements in strengthening passengers' sense of security are transparency and consistency in the vehicles. For example, since the type ET 423 S-Bahn trains have been introduced, passengers' sense of security when travelling by rail is once again judged to have improved noticeably.
Intercom systems
In many vehicles, intercoms are installed in the door areas so that the on-board staff can be alerted in the event of an emergency.
Video surveillance systems
Greater priority is being given to installing technical surveillance equipment in many buses and rail services. For example, all vehicles used on the night bus service must be equipped with cameras.
Direct line to Federal Police
A direct line which is free of charge has been set up with the Federal Police on telephone number (0800) 6 888 000. The connection is available round the clock and can be used, for example, for alerting the police to offences committed on railway property and on trains.
Many local contributions to safety
Of course, the local transport organisations and public transport companies are also making great efforts throughout the RMV network area to ensure the safety of their passengers. This ranges from installing video cameras in buses and live cameras at stops through to driver training which focuses on "De-escalation skills". Here are just a few examples:
Frankfurt
Security staff travel on all trains on the U1, U2 and U3 underground lines from 21.00 hrs through to the first train in the morning. Also, more security staff are deployed on other underground lines.
Darmstadt
HEAG mobilo GmbH has fitted stops in the city centre with approx. 60 live cameras. All buses and trains are equipped with special emergency call functions and connected at all times by radio with the traffic control centre which maintains a direct line to the police and rescue services.
Offenbach
All newly procured buses are fitted with video cameras and care is taken to ensure that the seating is particularly clearly arranged to provide visibility across the whole bus for on-board staff. On-board staff receive regular training in de-escalation skills.
Long-term measures
Right across the entire RMV network, all our partners supported by a number of bodies including schools, police and the road safety association are collaborating on preventative projects with children and young people. These involve practising safety-conscious behaviour on buses, trains and at stops in RMV bus schools - and in RMV Bus&Train Attendant Projects reacting appropriately in critical situations.